Gulet rent in Turkey Marmaris Fethiye
A gulet rent in Turkey is an amazing experience. The route between Marmaris and Fethiye is an amazing itinerary for a gulet cruise in between the coasts of Turkey. This route will sail between Marmaris and Fethiye in Turkey by tapping on the island of Gocek and Tersane, the bay and the islands of Kadirga Yassika. You will discover the most beautiful coastlines in eastern Aegean immersed in nature, crystal clear sea, the remains of ancient civilizations and charm of small fishing villages, where time seems to stand still. Let's sail with us on gulet yacht charter in Turkey.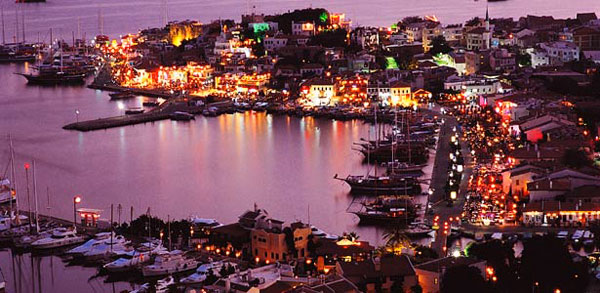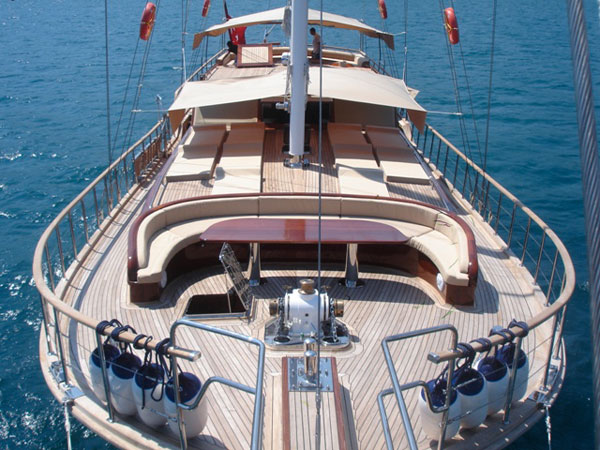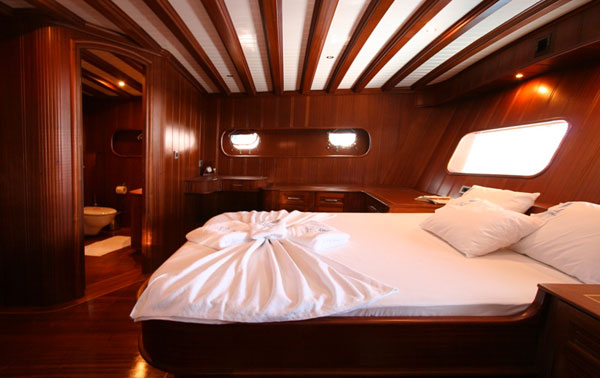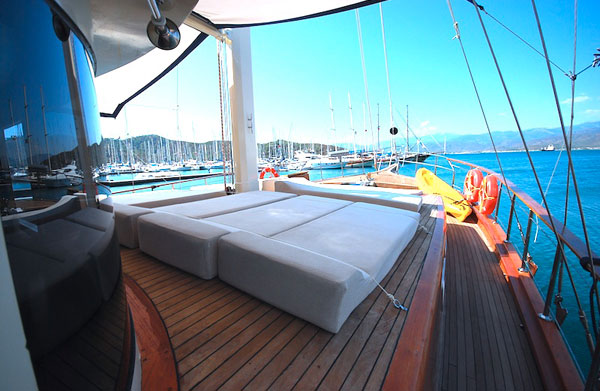 Gulet rent in Turkey Marmaris Fethiye
Route
Gulet rent in Turkey Marmaris Fethiye
Marmaris
Boarding at 15:30 from Marmaris Harbour. Do not miss a visit to Marmaris Castle dating back to 1577, the old Mosque and the caravanserai, dating back to the Ottoman period. Dinner and overnight at the Port of Marmaris
Gulet rent in Turkey Marmaris Fethiye
Ekincik Gulf – Dalyan
Breakfast, and a short briefing about the program of the cruise and life on board. We set sail for the Gulf of Ekincik. Anyone who wants can do an optional tour to Dalyan.
Dalyan is known the remains of ancient civilizations, for its rock-cut tombs, the castle of the Acropolis, the Ancient Theater and last but not least for the beauty of its territory.
In fact, in Dalyan there is a beach, which is a nature reserve, where the Caretta-Caretta turtles come to lay their eggs.
After a regenerating mud bath, the final destination of the day, will be the turtle beach. Dinner and overnight in the beautiful Gulf of Ekincik .
Gulet rent in Turkey Marmaris Fethiye
Tersane Island – Manastir – Kizilada
We sail early in the morning to cross the headlands of Disibilmez and Kurtoglu, to reach the famous Fethiye Gulf. Anchor near the island of Tershane and breakfast.
This beautiful natural protected bay, currently used as a port, was used as a shipyard in Byzantine and Ottoman Era. Stop in Manastir Bay for lunch and dip.
This place is also known as Cleopatra Bay due to the beautiful underwater ruins of an ancient bath, where it says Cleopatra used to have baths. Anchor in Kizil Burun for dinner and overnight.
Gulet rent in Turkey Marmaris Fethiye
Fethiye
On the fourth day of our cruise we arrive in Fethiye Harbour. Fethiye stretches out in a semicircle around a sheltered bay with 12 islands within. You can visit the city center, or join our optional tours to Ölüdeniz and Saklıkent. Dinner and overnight in Fethiye harbor
Gulet rent in Turkey Marmaris Fethiye
Göcek – Islands Yassica
After breakfast, we set sail for the island of Göcek. After lunch we sail towards the islands Yassica, islands of rare beauty. Drop the anchor to appreciate the wonderful scenery, dinner and overnight.
Gulet rent in Turkey Marmaris Fethiye
Kadirga – Turunc Bay – Isle of Cennet – Marmaris
Sail to Kadirga Bay early in the morning. Lunch break and swim in Kadirga Bay. After lunch we head back to Turunc Bay and Cennet Island to stop and swim. Overnight in the port of Marmaris. For those who wish to see better Marmaris you can take a stroll downtown and experience the vibrant nightlife.
Marmaris
Breakfast and disembarkation 10.30
How to book
To book a yacht or ask information or receive a quote you can +39 0698181706 or at mobile +39 3394772428. Our team will be pleased to give you all the information you need.
The deposit to send at the moment of booking is the 50% of the cost of the yacht.
The balance should be sent one month before the embarcation.
The bank details are as follow:
Beneficiary: Duende s.r.l.  Via Masurio Sabino 31 – 00175 – Roma  P.IVA e C.F. 10709511009  
      Tel. 0698181706  – mob 3394772428 e-mail : info@italyyachtcharters.com
account number c/c 36012 00000401275813 Eur
To Unicredit Bank , P.zza Cola di Rienzo 80/c 0092 – Roma
IBAN : IT 98 L 02008 05024 000401275813       SWIFT UNCRITM1B93