Gulet rent Turkey
A gulet rent in Turkey starting from Gocek is an amazing experience. This route is a gulet cruise in between the coasts of Turkey. This route starts from Gocek in Turkey to sail among other goals, Olu Deniz (the famous blue lagoon), the Gulf of Fethiye, the Islands Yassica and the famous Lycian rock tombs, carved into the rock. You will visit also Ekincik, natural paradise of lush forests where you can lose your sense of time. We will sail among the most beautiful coasts of Eastern Aegean, immersed in nature, crystal clear sea, the remains of ancient civilizations. With a gulet rent in Turkey you can also customize your itinerary according to your interests and tastes choosing the route day by day with according with the captain.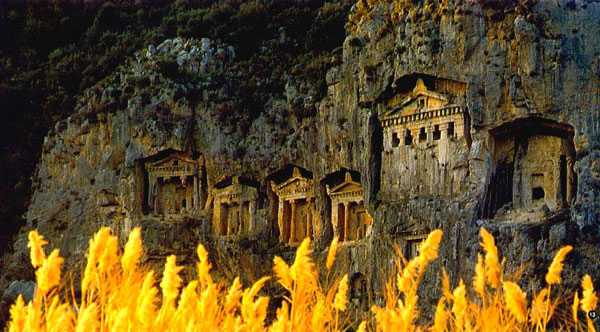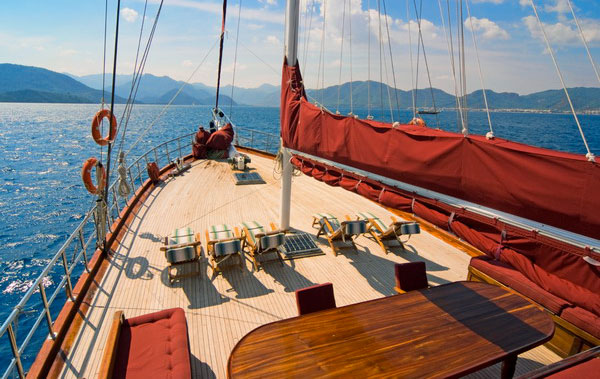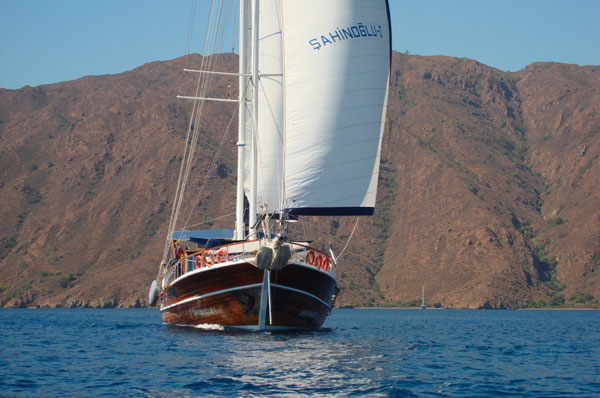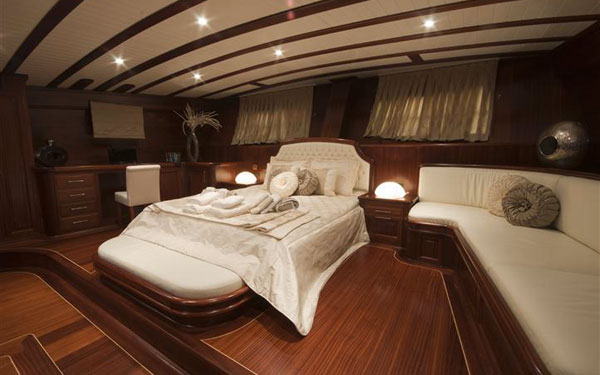 Desc/route
Day 1 : Göcek – Adalar Yassica
Gulet rent Turkey
Transfer from Dalaman Airport to the natural harbor of Gocek a true paradise of green and blue. Boarding and welcome cocktail, meeting with captain and crew.
We sail to the islands Yassica, famous for their mysterious appearance. Dinner and overnight stay in these islands.
Day 2 : Grundig – Cevre Koylar – Fethiye
Gulet rent Turkey
After breakfast we head for Grundig Cove. After lunch cruise to Fethiye and great swimming in some small creeks. Fethiye has an important marina and overlooks a beautiful bay strewn with islands.
Above the town, the famous Lycian rock tombs, carved into the rock. For those who could be interested, with a little extra (about 40 € ) you can arrange a visit.
Day 3: Oludeniz – Kayakoy – Gemiler Adasi
Gulet rent Turkey
Oludeniz, an oasis of peace made of turquoise water flat, ideal for swimming and other water sports is located just two miles from Gemiler Island. The lagoon of Oludeniz is often used as a film set and is is one of the most famous beaches of the Mediterranean.
We will sail to Gemiler Adasi (Ship Island) , a wonderful place to swim and snorkel, or enjoy a sunset in the hills with a bottle of wine. Landing and arrival with minibus in Kayakoy, an old "ghost town" .
Day 4: Ekincik – Dalyan
Gulet rent Turkey
We sail in Fethiye Bay in the direction of Marmaris up to Delikli Island. Transfer by boat to Caunos in the delta of Dalyan. (The tour costs 40.- Euro ) .
Here you will find a long golden sandy beach, nature reserve and refuge for sea turtles Caretta caretta and blue crabs. Higher and higher, we will admire the magnificent tombs carved into the rock .
In the afternoon en route to Ekincik, natural paradise of lush forests where you can lose your sense of time. This is without doubt one of the most beautiful stages of the entire tour.
Day 5: Aga Limani – Lydea – Batik Hamam
Gulet rent Turkey
Our next stop will be Aga Limani. From here, a 30-minute walk will reach the ancient city of Lydea , walking through numerous remains of Roman and Byzantine times .
We will continue to Batik Hamam ( Sunken ) , we will visit the ruins of an ancient Roman bath, where legend says Cleopatra used to bath .
Day 6: Sarsala Koyu – Domuz Adasi
Gulet rent Turkey
We sails to Sarsala Bay , one of the most beautiful bays of the Gulf of Gocek. After lunch, we will stop at Domuz Island. Here we will spend the night
Day 7:
Tersane – Bedri Rahmi
Gulet rent Turkey
Route to Tersane , the largest island in the Gulf of Fethiye. In the afternoon we will sail towards the Bay of Bedri Rahmi which takes its name from Bedri Rahmi Eyüpoglu that was one of the first travelers to discover this stretch of coast .
Day 8 : Disembark in the port of Göcek
Gulet rent Turkey
After breakfast disembarkation in the port of Gocek . And transfer from Gocek Dalaman.
How to book
To book a yacht or ask information or receive a quote you can +39 0698181706 or at mobile +39 3394772428. Our team will be pleased to give you all the information you need.
The deposit to send at the moment of booking is the 50% of the cost of the yacht.
The balance should be sent one month before the embarcation.
The bank details are as follow:
Beneficiary: Duende s.r.l.  Via Masurio Sabino 31 – 00175 – Roma  P.IVA e C.F. 10709511009  
      Tel. 0698181706  – mob 3394772428 e-mail : info@italyyachtcharters.com
account number c/c 36012 00000401275813 Eur
To Unicredit Bank , P.zza Cola di Rienzo 80/c 0092 – Roma
IBAN : IT 98 L 02008 05024 000401275813       SWIFT UNCRITM1B93