gulet rental in Turkey Bedia Sultan
Bedia Sultan is a beautiful yacht available for gulet rental in Turkey, between the coasts of Turkey and the Greek islands. The gulet is a luxury top level, moored in the port of Bodrum in Turkey, for gulet cruises between Bodrum and Rhodes, to discover the most beautiful places in the East Aegean Sea. A fantastic journey ( also called the "Blue Voyage" ) immersed in pristine nature, crystal clear sea, the remains of ancient civilizations and the charm of small fishing villages, where time seems to stand still. With the exclusive hire of a gulet in Turkey, you can also draw on fit your itinerary with your captain.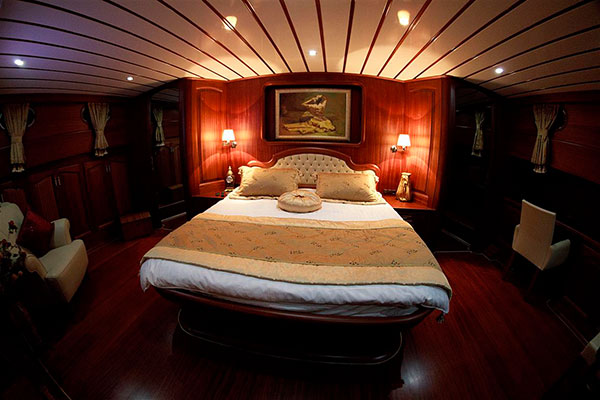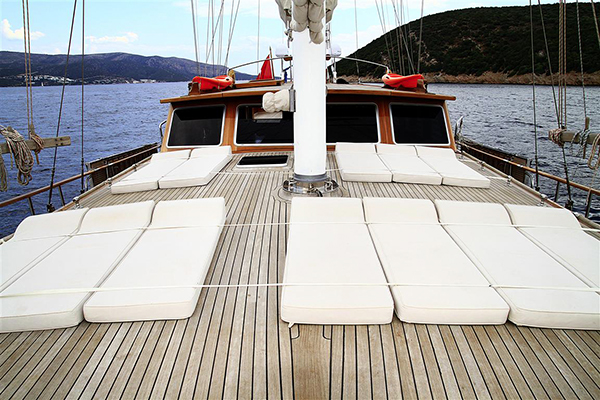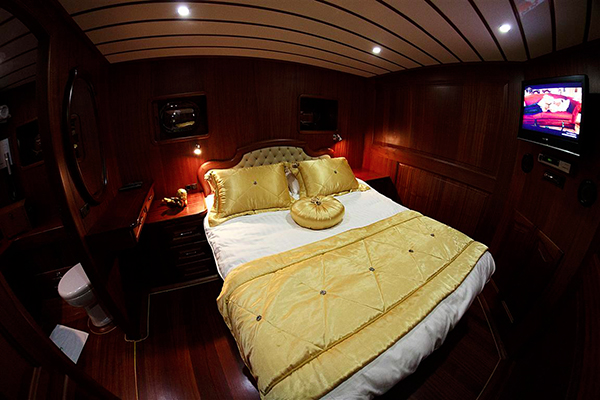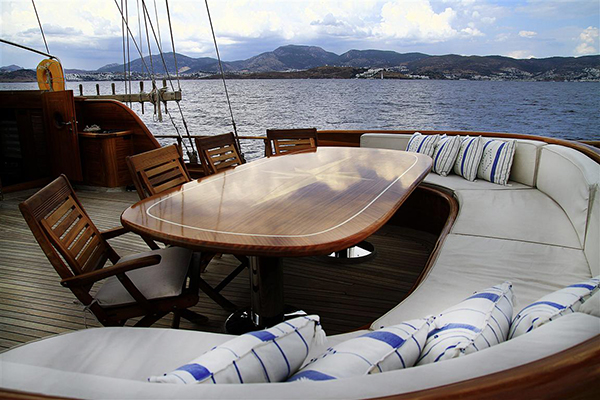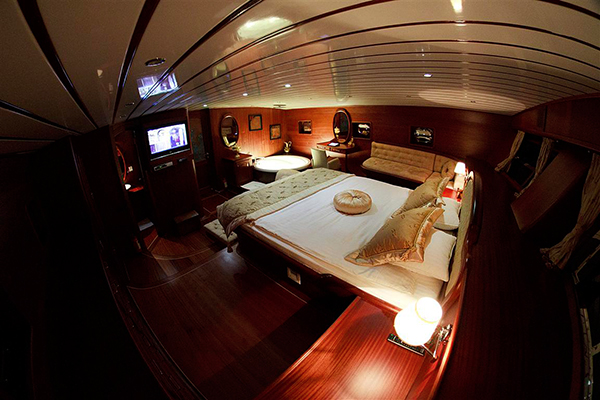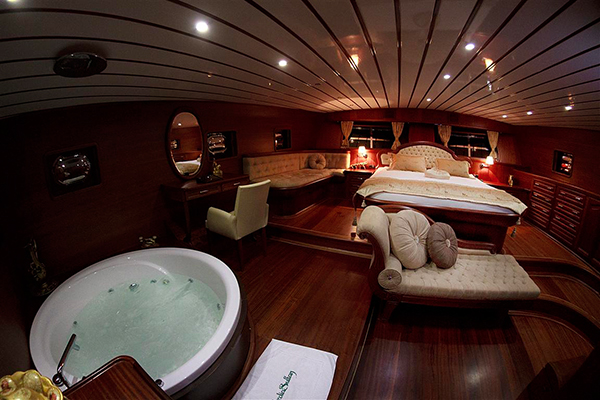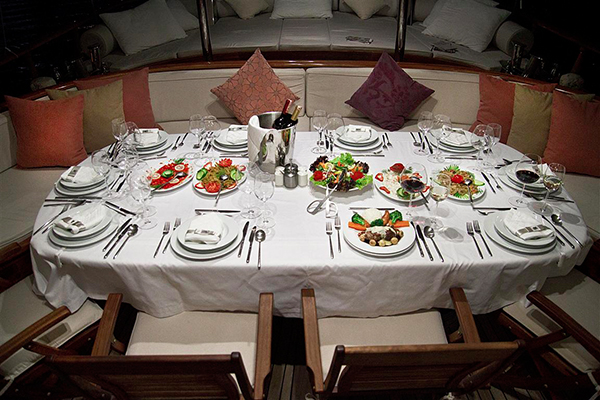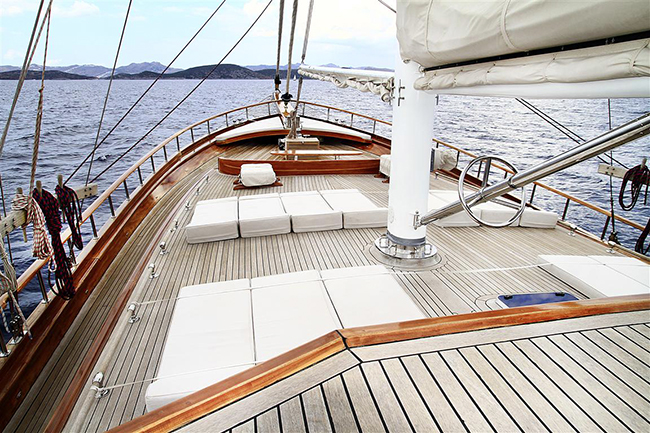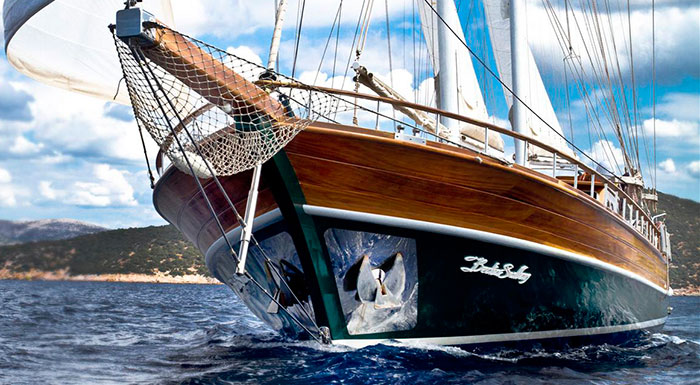 gulet rental in Turkey Bedia Sultan
Overview
gulet rental in Turkey Bedia Sultan
BEDIA SULTAN is not properly a gulet: is a sculpture of 35 meters of pure mahogany, crafted from a tropical forest, the result of a work of an excellent craftsmanship of the shipwrights of Bodrum. On board on Bedia Sultan you will realize how the owner and captain Hasan is an incurable perfectionist .
A dreamlike gulet cruise in Turkey
A gulet cruise in Turkey is an incredible journey between Asia and Europe, in the middle of two continents, with all the charm that the variety of this environment can offer. The nature is lush, forests that adorn the coast are there to prove it.
The sea smells of pine resin, and has colors ranging from turquoise to deep blue. The sea is always flat, allowing easy and comfortable navigation even in those who have never done this type of holiday .
Total Relax and fun
There are many reasons to choose a gulet cruise in Turkey, wether if you nightlife lovers or interested in more cultural itineraries, if you just want to relaxing with a good book or you are looking for good food and refreshing swims .
Bedia Sultan a luxury gulet
Bedia Sultan is the perfect choice for gulet rental in Turkey. The boat then is available for dreamlike routes. The finishes and elegance of the master bedroom has nothing to envy to the suite of a luxury hotel. These are supplemented by the hot tub with rose petals to make you feel like an emperor with his queen.
Who knows whether the captain Arzu Sultan or his wife have this taste for interior design, fabrics, perfectionism and attention to detail; The fact is that the entire project was completed with the highest standards.
A great Chef
The ship's cook is an exceptional chef, capable of satisfying the most demanding palates. If during your cruise in Turkey on board of Bedia Sultan, you will take a few pounds, then do not say we did not warn you.
gulet cruise in Turkey: you will come back
A gulet cruise in Turkey on board on Bedia Sultan, will leave you a lasting impression and the desire to return again to discover another route among the many available .
Spec Tec
Boat type: Gulet
Class: Deluxe High
Year built : 2008
Total Size : 35
flag: Turkish
air conditioner: yes
Generator : 2×24 KWA
Number of Employees: 5
Total guests: 10
Number of Cabins: 5
Master Cabins : 2
Triple cabins : –
Cabins : 3
Twin cabins : –
Cabin Details:
Ultra Deluxe gulet built in 2008.35 m length 8.30 beam.Has 5 Cabins, 2 & 3 Master Doubles.Could accommodate upto 10 persons in total .
Equipment on board:
Music System : In Cabins & Salons TV : Plasma TV in Cabins & Salon
water sports :
Waterski , Wakeboard , Canoe , Snorkeling equipments , fishing gears and to Zodiac with 50 hp outboard.
How to book
To book a yacht or ask information or receive a quote you can +39 0698181706 or at mobile +39 3394772428. Our team will be pleased to give you all the information you need.
The deposit to send at the moment of booking is the 50% of the cost of the yacht.
The balance should be sent one month before the embarcation.
The bank details are as follow:
Beneficiary: Duende s.r.l.  Via Masurio Sabino 31 – 00175 – Roma  P.IVA e C.F. 10709511009  
      Tel. 0698181706  – mob 3394772428 e-mail : info@italyyachtcharters.com
account number c/c 36012 00000401275813 Eur
To Unicredit Bank , P.zza Cola di Rienzo 80/c 0092 – Roma
IBAN : IT 98 L 02008 05024 000401275813       SWIFT UNCRITM1B93