Tuscany private cruise yachts rent in Capraia
Everybody knows Tuscany for the beautiful hills, the wine, the amazing landscape and medioeval villages. Less people knows Tuscany has amazing islands, enchanting sea and coast. Tuscany private cruise and yachts rent in Elba is a journey among nature and beauty. Let's discover Elba Island, a not to be missed stop during a dreamlike tuscany sailing charter or luxury private cruise
Descrizione
Elba: An amazing island
Located in the heart of the Tyrrhenian Sea, off the coast of Livorno in the Tuscan Archipelago, the island of Elba is the third largest Italian island an amazing stop during your Tuscan Archipelago sailing charter. It is located just 10 kilometers off the Tuscan coast. Tuscany private cruise and yachts rent in Elba is a journey among nature and beauty.
The island of Elba, with its fine sandy beaches, towering sea cliffs and rich sea bottoms, is part of the National Park of the Tuscan Archipelago, the largest marine park in Europe one of the most beautiful destination for italy private cruise.
The perfect Mix
Elba offers the opportunity to admire ancient mines, visit medieval villages, taste a rich and genuine cuisine or just relax and enjoy the profuse natural environment during a dreamlike Tuscany sailing escape….
In the setting of a crystalline sea and sandy beaches, green gulfs and secret or sheer rock faces, Elba is rich in pleasant surprises. There are shady forests, flat countryside and sun-drenched fields where agave and prickly pears reign supreme. Tuscany private cruise and yachts rent in Elba is a journey among untouched nature, crystal sea and shining sun.
Sail where the time seems to be suspended
There are also the small villages by the sea, which often still manage to preserve their ancient use as refuges for fishermen, and those perched in the mountains, which are reminiscent of pirate raids from a distant past.
From the variety of thriving wildlife in the Mediterranean forest to the hidden secrets of the higher woods, the vegetation on Elba is generous in terms of colour, perfume and shades of light.
A pleasant sailing vacation
Elba is an amazing sailing escape for nature lovers and a pleasant stop during a Tuscany sailing charter or private cruise, Tuscany private cruise and yachts rent in Elba is a journey among nature, food, amazing environment and don't miss it…!!!
trip notes
Sailing in Elba Island, as in all the Tuscan Archipelago islands, there are some forbidden areas where os not allowed to sail, to moore, to dive, or stay at anchor.
So there are:
Protected Areas
On land: nearly 50% of the territory, including cliffs and the small islands of: Le Formiche della Zanca, L'Ogliera, lo Scoglio della Triglia, l'Isola Corbella, le Isole Gemini, l'Isolotto d'Ortano, l'Isola dei Topi e lo Scoglietto di Portoferraio (zone 2). The islands of Palmaiola and Cerboli in the Piombino Channel are also protected (zone 2).
At sea: The Ministerial Decree of 10th August 1971 instituted a zone of biological protection in the canal, forming part of the town of Portoferraio in locality Le Ghiaie, including the area between Punta Falcone and Capo Bianco, and as far as Lo Scoglietto. In this part of the sea, any form of fishing is strictly forbidden, whether professional or for sport, except for fishing from the land and fishing for squids.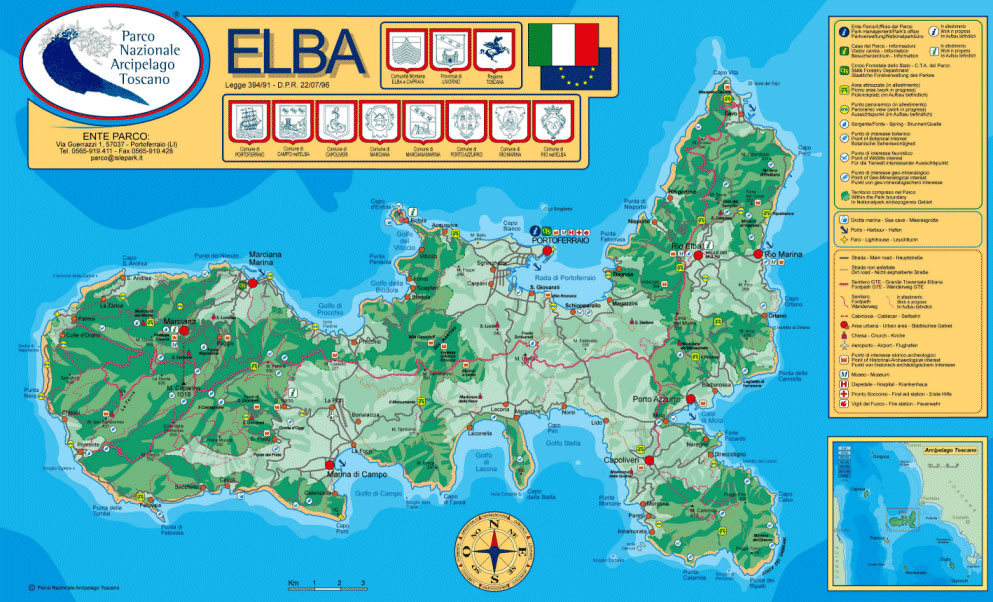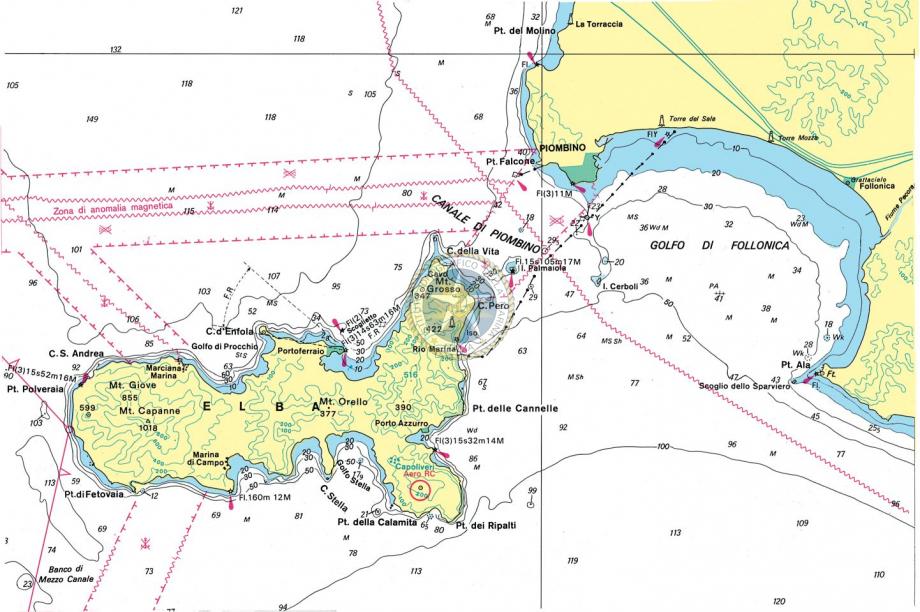 itineraries
Itinerary 1 sailing holidays and yacht charters in Tuscany
Castiglioncello Capraia 33 Nautical Miles
Capraia Marciana 22 Nautical Miles
Marciana Marina Marina di Campo 4 Nautical Miles
Marina di Campo Porto Azzurro 7 Nautical Miles
Porto Azzurro Portoferraio 4 Nautical Miles
Portoferraio San Vincenzo 17 Nautical Miles
San Vincenzo Castiglioncello 17 Nautical Miles
Itinerary n 2: Tuscany sailing holidays and charters
Castiglioncello Capraia
Capraia Marina di Campo
Marina di Campo Isola del Giglio
Isola del Giglio Isola di Giannutri
Isola di Giannutri Porto Azzurro
Porto Azzurro Castiglioncello
Itinerary 3 sailing holidays and yacht charters in Tuscany
Castiglioncello Capraia
Capraia St. Florent
St. Florent Calvi
Calvi Ile Rousse
Ile Rousse Macinaggio
Macinaggio Castiglioncello
Distances in nautical miles from Salivoli:
Golfo di Baratti, 3 Nautical Miles
Elba–Cavo, 5 Nautical Miles
Elba–Portoferraio, 10 Nautical Miles
Elba–Porto Azzurro, 13 Nautical Miles
Elba-­‐Marciana Marina, 15 Nautical Miles
Argentario, 39 Nautical Miles
Capraia, 29 Nautical Miles
Giglio, 36 Nautical Miles
Giannutri, 54 Nautical Miles
Corsica–Macinaggio, 46 Nautical Miles
Corsica–Bastia, 48 Nautical Miles
How to book
To book a yacht or ask information or receive a quote you can +39 0698181706 or at mobile +39 3394772428. Our team will be pleased to give you all the information you need.
The deposit to send at the moment of booking is the 50% of the cost of the yacht.
The balance should be sent one month before the embarcation.
The bank details are as follow:
Beneficiary: Duende s.r.l.  Via Masurio Sabino 31 – 00175 – Roma  P.IVA e C.F. 10709511009  
      Tel. 0698181706  – mob 3394772428 e-mail : info@italyyachtcharters.com
account number c/c 36012 00000401275813 Eur
To Unicredit Bank , P.zza Cola di Rienzo 80/c 0092 – Roma
IBAN : IT 98 L 02008 05024 000401275813       SWIFT UNCRITM1B93