Tuscany private cruise and yachts rent in Giannutri
Giannutri is an amazing island, one of the most untouched of the whole Tuscan Archipelago. Tuscany private cruise and yachts rent in Giannutri is a journey among nature and silence. Is not easy to visit island due to the strict permissions in order to preserve the unique landscape of this scented island. However in the period between May and October is possible to reserve a visit, booking in advance.
Description
An Amazing small island
Giannutri is the southern-most island of Tuscan Archipelago, located 18km S-SW from Porto Ercole,  along the southern coast of Monte Argentario, and 14km SE of the island of Giglio. Being the second-smallest island of Tuscany, with a surface area of 2.6 km2, Giannutri is half-moon shaped, the divine symbol of hunting that inspired ancient civilizations and who named the island first Artemisia and later Dianum. Tuscany private cruise and yachts rent in Giannutri is not easy due to the protected marine park, however it will be a journey among untouched nature and amazing landscape.
An island with a pristine nature
The length of the island from North to South is approximately 2.5km with the maximum width being just 500m. Giannutri, one of the most untouched of the whole Tuscan Archipelago.There are two small ports close to the island's main creek: Cala Spalmatoio, on the eastern side of the island, facing South-East, protected from the western and northern winds; and Cala Maestra, on the opposite side, facing North-East.
Great Spot sites
Giannutri 's territory offers wild and untouched nature, crystal sea and amazing and secluded bays. Tuscany private cruise and yachts rent in Giannutri is also a good occasion for diving since Giannutri is also famous for the beauty of its depths, a veritable paradise for sailing and diving lovers.
Limited access
However in the busiest tourist period (from May 26 to October 12) in order to protect the island's natural beauty and characteristics, a maximum of 300 people per day are allowed access to the island.
Contact the authorities for the informations
In this period to access the island you must contact the Park office tel. Gillone@islapark.it 0565 919411 E-mail or phone the Tourist Board of Monte Argentario. Infoargentario@lamremma.info 0564 814208 or the local tourist island of Giglio tel. 0564 809 400.
Trip Notes
Giannutri Island has limited access on land and in the sea.
Protected Areas
On land : 100% of the territory (zone 2).
At sea: in part (zone 1 and zone 2), excluding two access channels for boats. In zone 1 it is forbidden to access, to navigate, to stop, to anchor, to fish and to dive. In zone 2, fishing is regulated by the Park Authority.
Access on land:
Free access with the exception of the period 26th May to 12th October each year. During this period, access on land is limited to the "corridor" for individuals and unorganized groups with a guide, as indicated in red on the map and which incorporates the main road connecting Cala Spalmatoio with Cala Maestra;
On the remaining part of the island :
Two protected areas have been identified to the north and to the south of the "corridor". Visits to these zones can only be made with a guide and in groups numbering no more than 25 people, in two daily sessions, each with a maximum of 150 visitors, for a total of 300 visitors per day employees of the institutions and services, and children under the age of 10 are excluded from these rules, as well as certain cases that can from time to time be considered and authorized by this Authority. An entrance ticket has been introduced for the protected areas of Giannutri at a cost of €3.00 per visitor.
Residents (of Giannutri Island and of the whole Tuscan Archipelago), the handicapped and children under the age of 4 are exempt, as well as those who are visiting Giannutri on business or on behalf of the institutions. In an experimental manner, protected areas can be accessed by residents of the island, property owners, renters and hotel guests on request of an appropriate numbered pass, issued by the Park.
Access: regulated in certain areas of land and sea. The island is almost exclusively private property and inhabited during the summer season.
There are no public services or businesses outside of the summer season.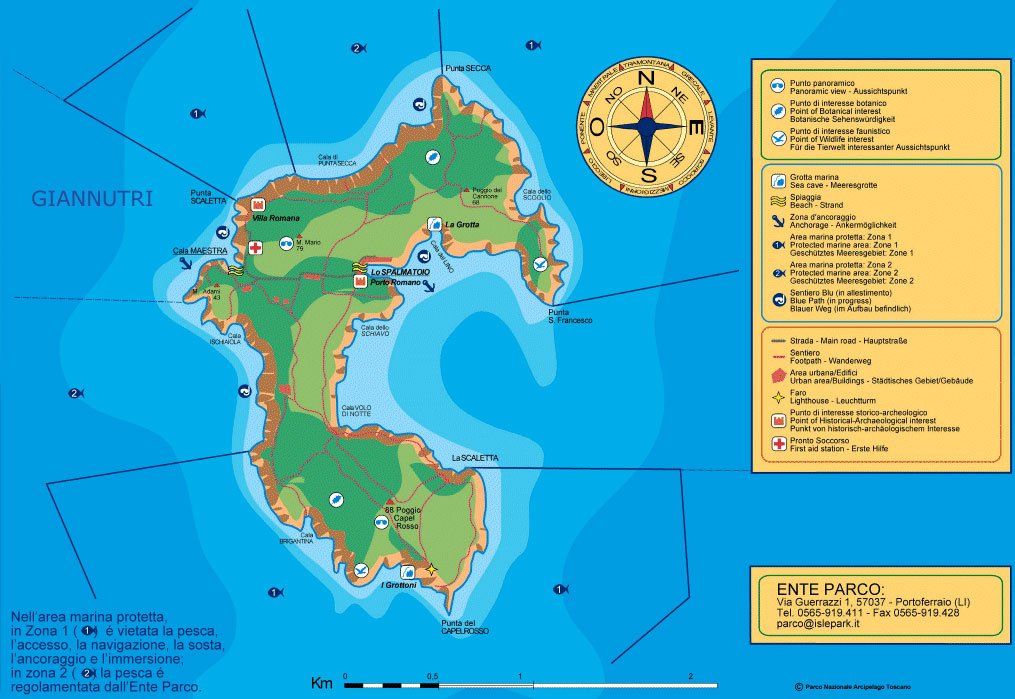 itineraries
Itinerary 1 sailing holidays and yacht charters in Tuscany
Castiglioncello Capraia 33 Nautical Miles
Capraia Marciana 22 Nautical Miles
Marciana Marina Marina di Campo 4 Nautical Miles
Marina di Campo Porto Azzurro 7 Nautical Miles
Porto Azzurro Portoferraio 4 Nautical Miles
Portoferraio San Vincenzo 17 Nautical Miles
San Vincenzo Castiglioncello 17 Nautical Miles
Itinerary n 2: Tuscany sailing holidays and charters
Castiglioncello Capraia
Capraia Marina di Campo
Marina di Campo Isola del Giglio
Isola del Giglio Isola di Giannutri
Isola di Giannutri Porto Azzurro
Porto Azzurro Castiglioncello
Itinerary 3 sailing holidays and yacht charters in Tuscany
Castiglioncello Capraia
Capraia St. Florent
St. Florent Calvi
Calvi Ile Rousse
Ile Rousse Macinaggio
Macinaggio Castiglioncello
Distances in nautical miles from Salivoli:
Golfo di Baratti, 3 Nautical Miles
Elba–Cavo, 5 Nautical Miles
Elba–Portoferraio, 10 Nautical Miles
Elba–Porto Azzurro, 13 Nautical Miles
Elba-­‐Marciana Marina, 15 Nautical Miles
Argentario, 39 Nautical Miles
Capraia, 29 Nautical Miles
Giglio, 36 Nautical Miles
Giannutri, 54 Nautical Miles
Corsica–Macinaggio, 46 Nautical Miles
Corsica–Bastia, 48 Nautical Miles
How to book
To book a yacht or ask information or receive a quote you can +39 0698181706 or at mobile +39 3394772428. Our team will be pleased to give you all the information you need.
The deposit to send at the moment of booking is the 50% of the cost of the yacht.
The balance should be sent one month before the embarcation.
The bank details are as follow:
Beneficiary: Duende s.r.l.  Via Masurio Sabino 31 – 00175 – Roma  P.IVA e C.F. 10709511009  
      Tel. 0698181706  – mob 3394772428 e-mail : info@italyyachtcharters.com
account number c/c 36012 00000401275813 Eur
To Unicredit Bank , P.zza Cola di Rienzo 80/c 0092 – Roma
IBAN : IT 98 L 02008 05024 000401275813       SWIFT UNCRITM1B93