Tuscany private cruise yachts rent Montecristo
The island of Monte Cristo, belonging to the Tuscan Archipelago and to the district of the town of Portoferraio, is now a natural reserve. It develops for 16 km. of coast and it has only one landing place in Cala Maestra. Yachts rent in Montecristo is not possible, due to the marine protected park, however vist the island is not impossible. This island is enveloped by mist and fog almost all the year round and it has become legendary because of Alexandre Dumas's famous novel.
Descrizione
An island with limited acces
During a Tuscany sailing holiday you will have the opportunity to see the island of Montecristo. The island of Montecristo in Tuscan Archipelago is the "Treasure island", the one told by Alexandre Dumas in his masterpiece " The Count of Monte Cristo ". Yachts rent in Montecristo is not possible, due to the marine protected park, however visit the island is not impossible.
If you are sailing in Tuscany Montecristo is not to be missed since the island is definitely the most fascinating of the whole Tuscan Archipelago, the most mysterious and difficult to visit. But not impossible.
Montecristo is about 63 km from the Argentario coast to the East, about 45 km from the southern shores of Elba is located in the North, 43 from Giglio (East) and 27 km from Pianosa (NN-O).
The nature Reserve
Home in the sixteenth century of a thriving monastic community, today the island is almost uninhabited. Its territory is Nature Reserve by a Ministerial Decree of 4 March 1971 and graduated from Biogenetic Nature Reserve by the Council of Europe since 1988.
almost inhabited
For almost 40 years, since it became a nature reserve, only scientists and researchers have been allowed within three miles of the island's granite cliffs. Yachts rent in Montecristo today is not possible, due to the marine protected park, however visit the island is not impossible and will be a journey among untouched nature and Crystal sea.
The waters were regularly patrolled to make sure the island's population of monk seals, dolphins, tuna and rare birds was not disturbed. Anyone entering the waters illegally was liable to an instant £150 fine.
The park authority
However, the Park Authority for the Tuscan Archipelago has now decided to allow up to 1,000 tourists a year to visit Montecristo, which lies 22 miles south of Elba and 40 miles from the coast of Italy.
Get information to visit island
Visitors will be allowed from April 1 to July 15 and then from August 31 to the end of October each year. Only a thousand people a year can visit MonteCristo accompanied by State Forestry Corps.
Outside of this quota, you can also access the island, without guided tour, landing in Cala Maestra with your own boat, and in both cases you should contact the Office of Territorial Biodiversity State Forestry Corps of Follonica (0566/40611) that is responsible for managing visits to the island. You will find more informations in the "Trip Notes" Section
Trip Notes
Visiting:
It is possible to request authorization for a guided tour between 1st April and 15th July and from 31st August and 31 October for a maximum of 1000 visitors per year in which 600 are students and 400 are adults.
How to request a visit:
A request has to be made before 31st January of each year to the Territorial Office of Biodiversity of the Corpo Forestale dello Stato in Follonica. Tel. 0566 40611 fax: 0566 44616.
Before visiting, each person will be given a short informative training course that is included in the visit to Montecristo and which is organized by the Park Authority and the Comune of Portoferraio, once a year. Ways to register and dates of the
course are publicized by The Park and the Comune of Portoferraio. Authorization for visiting the island without a guide can also be requested for visits between 1st April and 31st October
How to request access
At least 30 days prior to the visit, a request is to be made of the Territorial Office for Biodiversity of the Corpo Forestale dello Stato in Follonica Tel. 0566 40611 fax: 0566 44616
It is permitted to disembark on the island in order to visit the surrounding area of Cala Maestra and the museum. Access will be granted to one boat per day with a maximum of 15 people with a certain rotation that doesn't allow the person requesting, or the boat, to be authorized again for another 2 years. Visits are to be authorized only when accompanied by a guide from the staff of the Corpo Forestale dello Stato.
Access to the sea: Forbidden
It is strictly forbidden to swim, to stop in the bay, to sail around the island, or to dive in the 1000m of sea surrounding the coast.
Docking is allowed, only with the authorization of the Territorial Office for Biodiversity of the Corpo Forestale dello Stato in Follonica, at Cala Maestra in the small port and in concordance with an authorized visit to the island.
Diving is forbidden, though may be authorized by the Park Authority only for scientific or cinema-photografical work. The island is listed in the Zones of Special Protection (ZPS), classified in accordance to the directive 79/409/CEE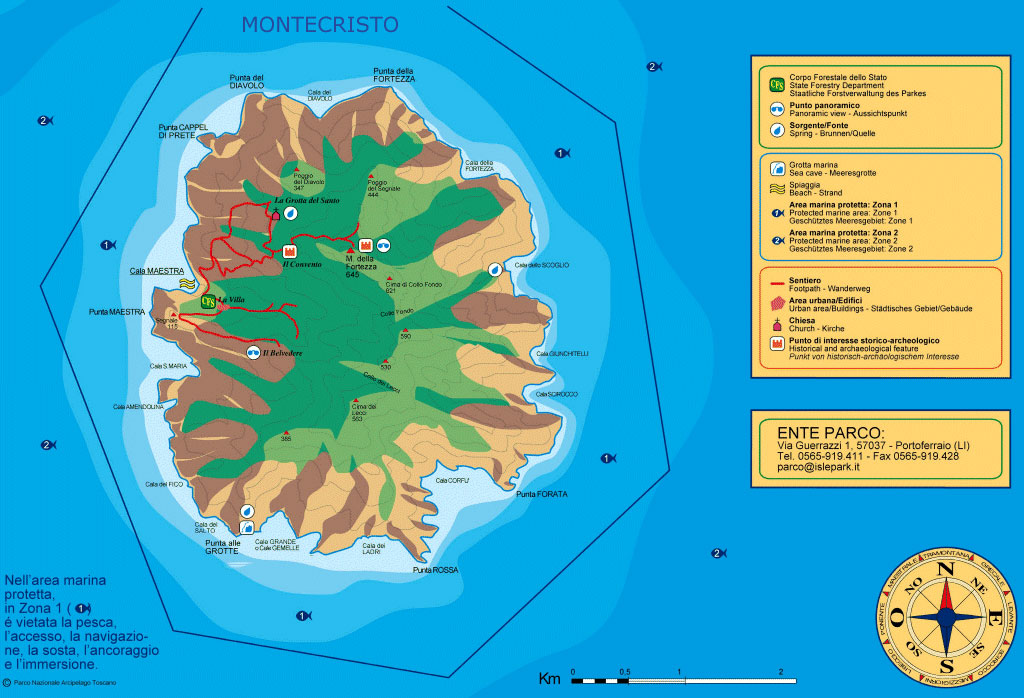 Useful Information for sailing
The island is a granite, with a compact structure, but with several ravines and small creeks. On the west side, between Devil's Point and Point Caves, you find Cala Maestra, the only (little) mooring of the island : the landing, however, is strictly prohibited (See information above). The seabed and fauna have been protected by creating a zone of biological protection. The Ants of Monte Cristo consist of a single rock (the Rock of Africa, with the lighthouse No. 2096-E 1454, placed in a cylindrical tower on a cone of stone) and two shoals north of it, about 2.5 Metres, with a depth of 6 and 7.5 metres.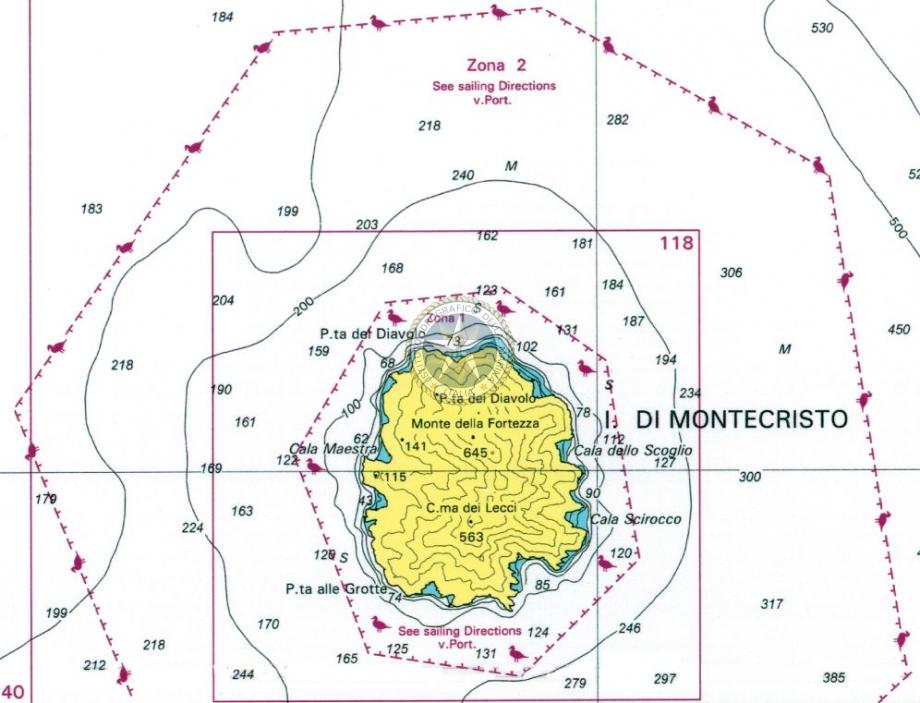 itineraries
Itinerary 1 sailing holidays and yacht charters in Tuscany
Castiglioncello Capraia 33 Nautical Miles
Capraia Marciana 22 Nautical Miles
Marciana Marina Marina di Campo 4 Nautical Miles
Marina di Campo Porto Azzurro 7 Nautical Miles
Porto Azzurro Portoferraio 4 Nautical Miles
Portoferraio San Vincenzo 17 Nautical Miles
San Vincenzo Castiglioncello 17 Nautical Miles
Itinerary n 2: Tuscany sailing holidays and charters
Castiglioncello Capraia
Capraia Marina di Campo
Marina di Campo Isola del Giglio
Isola del Giglio Isola di Giannutri
Isola di Giannutri Porto Azzurro
Porto Azzurro Castiglioncello
Itinerary 3 sailing holidays and yacht charters in Tuscany
Castiglioncello Capraia
Capraia St. Florent
St. Florent Calvi
Calvi Ile Rousse
Ile Rousse Macinaggio
Macinaggio Castiglioncello
Distances in nautical miles from Salivoli:
Golfo di Baratti, 3 Nautical Miles
Elba–Cavo, 5 Nautical Miles
Elba–Portoferraio, 10 Nautical Miles
Elba–Porto Azzurro, 13 Nautical Miles
Elba-­‐Marciana Marina, 15 Nautical Miles
Argentario, 39 Nautical Miles
Capraia, 29 Nautical Miles
Giglio, 36 Nautical Miles
Giannutri, 54 Nautical Miles
Corsica–Macinaggio, 46 Nautical Miles
Corsica–Bastia, 48 Nautical Miles
How to book
To book a yacht or ask information or receive a quote you can +39 0698181706 or at mobile +39 3394772428. Our team will be pleased to give you all the information you need.
The deposit to send at the moment of booking is the 50% of the cost of the yacht.
The balance should be sent one month before the embarcation.
The bank details are as follow:
Beneficiary: Duende s.r.l.  Via Masurio Sabino 31 – 00175 – Roma  P.IVA e C.F. 10709511009  
      Tel. 0698181706  – mob 3394772428 e-mail : info@italyyachtcharters.com
account number c/c 36012 00000401275813 Eur
To Unicredit Bank , P.zza Cola di Rienzo 80/c 0092 – Roma
IBAN : IT 98 L 02008 05024 000401275813       SWIFT UNCRITM1B93